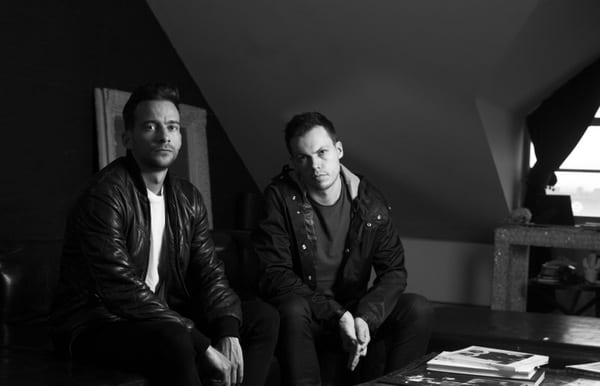 Delta Heavy take us into the world of 'White Flag', of the select remixes, of the subject of futuristic producers in general and of course into rabid live crowds armed with deadly pints.
Hi DH how's things. What's been happening?
Hi DNBA, things are pretty good thanks. Out here in LA been playing some North American shows in the past week and have a few more this week including the annual carnage at EDC in Vegas.
Tell us where the inspiration for 'White Flag' came from… including the title.
Musically for the original version we wanted to do something completely fresh and came up with a euphoric half time beat that was semi-inspired by some of Flume's early music.
We then arranged the vocal over it and created that looping vocal chorus which really defines the tune. We were always going to do a full D&B dance floor version for 'White Flag' but writing the VIP took a bit longer to complete as we wanted it to be a completely fresh song rather than an edit.
As for the title – you'd have to ask the singer how she came up with the idea but it provides a great concept and imagery which is something we always try to inject into our music.
I instantly 'saw' a video for this… anything planned?
Of course! There's a very cool 8-bit animated video dropping imminently.
The remixes here didn't just happen. They never do: they are carefully thought out and lots of things are considered… what are some of those things?
The first thing we choose is what genres could work with the elements taking into account things like tempo and energy and then we look around at who is coming out with great music at the time.
Taiki Nulight has been killing it over the last couple of years with great original tunes and a series of remixes that are fuelling the bass house scene on both sides of the Atlantic and we loved how he took White Flag to a darker place.
Tisoki is a relatively new producer from Scotland who we found through his remix of 'Hold It Down' by Oliverse. It reminded us of dubstep from around 2011/12 which has been coming back with a vengeance recently.
'Arcadia' smashes things with a fab futuristic take… if it was a film it'd be Tron-like, all neon and overwhelming… or is that just me?
I would certainly agree with that description. It's quite an old track of ours that we started a good 3 years ago actually so it's good it is finally being released.
It's a fairly succinct summary of what we're mostly known for – hard hitting dancefloor tracks with a futuristic and musical edge.
You've got me thinking now about how certain eras in music and film imagined the future, from Blade Runner to old Duran Duran videos to Queen, Prince, to Tangerine Dream to Kraftwerk, Roxy Music, and in D&B people like John B, Goldie, Krust… I could go on forever, what are some fave futuristic/visionary artists of yours
George Orwell, Haruki Murakami, Philip K. Dick, Brian Eno, Daft Punk, Jon Hopkins, Hans Zimmer, Alva Noto…
Where's some hotbeds you like playing?? Places that always go off and are rabid. I mean it's a crazy lifestyle.
We've been fortunate enough to have played some great shows all over the globe this year so will pick out some of the best crowds of 2016: LA, Portland, Auckland, Perth, St. Petersburg, Mayrhofen, Calgary, Vancouver, Seattle and London.
Newcastle also deserves special mention as the most rabid crowd as they were dancing in the middle of the main road outside the venue before the gig started and the police had difficulty keeping them under control.
Then inside they were moshing before the music had actually started! They go in hard up there!
I never know how DJs know how to cue up their first tune if the decks are littered with drinks, cigs, apple macs and all that shit.
Luckily, these days we don't have to clear away crap from the decks and most people are conscientious around the equipment but that doesn't mean you're safe. We decided to switch to USBs and stop DJing using our laptops and traktor when a full pint of beer was launched from the crowd and narrowly missed the laptop at a festival on the Isle of Wight a few years ago.
The punters get rowdy these days!