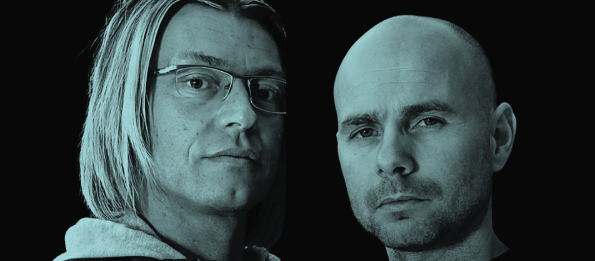 As the CIA 20 album drops, we got the lowdown from Total Science themselves, and it's all here as you'd expect: the lows, the highs, the views about 'pop D&B', Manimal and bladder malfunctions…
[And on a serious note: Total Science are such an integral stream of D&B's fabric, plus part of the crucial transition from the 90s: if you understand true 'Liquid Funk' then you will comprehend how much a part of THAT overall vibe TS was – check 'Make Me Feel' or 'Rated X' released on CIA around the early 2000s – and strongly continue to be.]
Total Science! Tell us how CIA has changed over time, in terms of the sort of D&B you put out there? Rarely has there been such a label that understands true filth, true liquid funk, true beats like you… you really organically span it all.
We've never really been into trends: we just put out the music we're feeling and sometimes that is fashionable and sometimes not. It's just good music, So really to answer the question, I don't think it has changed.
We're still putting out what we consider to be quality D&B, whatever style that is.
So onto the – quite mega – CIA 20 comp: Total Science is of course here: tell us about 'Respect Due', what inspired?
It's one of those tunes which is very much influenced by dub. We got the jungle beats rolling then the lazy bassline felt so right over the top of it! The bleeps took a little time to get right groove wise. Then we hit our soundclash collection for the vocal samples and 'Respect Due' was born!
And you've gone in with some guests on the very gritty 'Apply The Pressure', tell us about the collab?
Well, we started collaborating with Steve and Duncan aka Digital and Spirit back in 2014 and it was an instant vibe.
So Steve came up here one day last year and we got a good bulk of the them done, we then sent it over to Duncan who pretty much finished the arrangement and add some extra bits to it.
Then Quiff locked into mix them down. It took a bit of to-ing and fro-ing, but we got there in the end.
Look out for a CIA vs Phantom Audio EP, which will be dropping September/October.
In terms of the names present – Calibre, The Invaderz, Digital, Spirit, FD – are they people you have encountered over the course of time running CIA? What's the bond, as it were?
The artists on the album are all pretty good friends of ours, who we met through either them doing music for the label, or us collaborating with them . We like to forge friendships with good like-minded people who can put up with our warped sense of humor! They all can.
Got to be some stories about some of the live nights you've done…
I – Paul – p*ssed myself on stage at a Viram party back in the mid 2000s and was nicknamed 'Manimal' because of the messy state I was in for the entire time I was there. There's plenty more but that one tops it for me. Most of Quiffs are unprintable!
Back to the CIA 20: what in general can we expect?
There's a lot to mention here and don't wanna miss anyone out. We have an Old skool roller from Break, Calibre's come with his dub flavours…
… S.P.Y's given us some filth, FD's brought the soul, Zero T's rolled out a remix of his 'Morning Sex' ft MC Conrad…
Villem, Mcleod and Hydro have gone really deep, Chroma have smacked us in the hard in the face, The Invaderz have dug out the amen and rinsed it out, Ed:it's come with some future funk, Murdock's done a tasty little dancefloor roller…
… and there's collabs with us, Digital and Spirit & Us, Quadrant and Iris. Both very different tunes from each other, as you'd expect!
What sort of changes are you feeling right now in D&B? personally wouldn't mind a bit of danger back.
Well the whole pop D&B thing gets right up our noses. People are saying it's good for D&B but we beg to differ. It's not born out of the underground anymore! It's paint-by-numbers music.
'Inner City Life' didn't copy everything else which was going on at the time and wasn't given to the likes of Annie Mac to play as an exclusive on air first. The undergound DJs would build it up, which made the majors interested. This new stuff is made solely for Radio, and most of the time ghost written by someone else.
Is that dangerous enough?
That said, the underground is strong right now and we're buzzing with new and old talent so let the fame-hunting muppets get on with it.
Shouts?
To everyone involved in the album, all the other artists who have released on the label over the past 20 years and everyone who's been buying and supporting our music.